Sally's 6-great Grandparents:
John Moore bef 1680 – bef 1732 | his parents
of Nansemond County, Virginia
---
My working hypothesis – the way I see it as of this moment!!
---
This John Moore may be son of the William Moore that pat on a branch of the Nansemond River on 6 Dec 1652. The pat of Richard and John Snders and Henry Plumpton on 20 Oct 1689 ; one refers to the neighbor Thomas Mason and the other to the location by "William Moore's ancient patent of 300 acres."
1732 John Moore sold his brother William Moore (current owner 1734) 110 acres in Fork of Southern Branch of Nansemond River in Upper Parish which John Moore father to John & Wm. willed to sd. John. Southside Virginian Vol V page 11.
Others think perhaps this John Moore is the son of another John Moore.
Turns out tho that "John Moore" was "John Moone"  a mis-read.
Children of John Moore:
1. Edward Moore died bef 1757
married [Mary] Margaret "Elizabeth" Bonner
dau of Thomas Bonner and wife Elizabeth
a. Ruth Moore
b. Mary Moore
married Robert Rogers of Beaufort
2. Arthur Moore
married Esther Bonner
3. * William Moore ca 1705 – 1771
married Sarah Lawrence
4. Moses Moore died April 1802
married Susanna
1802. will of Moses Moore, April 2, 1802. May Court 1802. Wife: Susanna, lend 120 Acres South Side of Tyancokey Swamp, also 1 negro, for widowhood; stock cattle, tools, furniture and $5. Son: George, $1 silver beside that already given him. William, son of George, and wife Elizabeth, $100 silver. Sons: Hartwell, Joseph, Moses, Mark, John, $100 silver each. All land divided between latter 4 sons. Daughters: Nancy, Elizabeth, Rebecca, Esther, $24 each. Executors are LaMon Ruffin, Simeon Horn, Dempsey Jenkins, Mark Dillard. Witnesses are H. Haywood, Ethelred Ruffin, Samuel Handby. Abstracts of Edgecombe County Wills, Page 231.
a. George Moore
married Elizabeth
i. William Moore
b. Hartwell Moore
c. Joseph Moore
d. Moses Moore died bef Feb Ct 1818
e. Mark Moore
f. John Moore
g. Nancy Moore
h. Elizabeth Moore
i. Rebecca Moore
j. Esther Moore
?5. Joseph Moore
?6. John Moore
7 Nov 1700 John Moore patented 481 acres adj. William Hunter.
1704 Rents Llist–Nansemond county VA: Edw'd Moore 250; Tho 200; Jno 200; Rich'd 250; James 400; John 100
20 Oct 1704 John Moore patented 95 acres adj John King.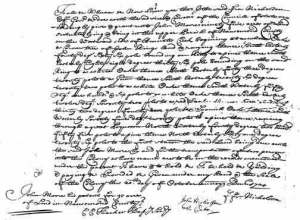 15 July 1717 John Moore patented 150 acres adj. Adam Raby.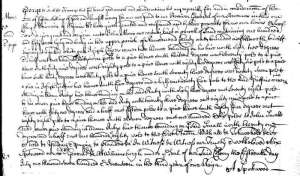 Southside Virginian Vol V #1 Jan 87 Nansemond county Records by L. H. Hart After the destruction of Nansemond County records by fire at the house of Christopher Jackson, Clerk of Court, in April 1734, a commission was appointed to include William Wright and 11 others. They were to examine old legal instruments brought in to be rerecorded and take any necessary depositions to prove the validity of these items. Two reports containing abstracts of the rerecorded items are among the Colonial Records at the Public Records Office.
Reel 86 (c.0. 412/24) 1729 or 30–Edward Moore bought of William Moore land whereon said Edward now lives.
Bertie Co NC B 76 William Moore late of Nansemond Co to Henry Barfield Nov 20, 1725 10 pds for 220 A William son & heir of Richard Moore late of Nansemond Co dec land at Ahosky Marsh adj Leonard Langston. . .
e-mail from Mike Copeland: Sept 06
Hello Sally, my name is Michael Copeland (Moore) and we have corresponded before and I wanted to share some information with you and get your response and hopefully your insight on the material. First, in doing the land deed records I have found a distinct relationship in the land records that would suggest the following relationships:
EDWARD MOORE and ARTHUR MOORE are brothers. Each married a Bonner daughter and Arthur Moore witnessed the will of Thomas Bonner that names his daughter ESTHER MOORE.
After the death of EDWARD MOORE his daughters Ruth Moore and Mary Moore begin to sell off his land and the selling of the land is witnessed by WILLIAM LAWRENCE who is the brother of Sarah Lawrence, the wife of WILLIAM MOORE.
This would make EDWARD, ARTHUR, and WILLIAM MOORE brothers.
Then I found the following records: Arthur Moore and Moses Bonner are witnesses to a slave transaction by Thomas Bonner and James Byrum.
Moses Bonner is the brother of Arthur's wife Esther Moore and the son of Thomas Bonner. The only transaction that I have come across with ARTHUR MOORE and MOSES MOORE is in 1759 when both men witness a deed between William Bird and Joseph Farmer in Bertie County. It would seem reasonable enough then that Moses Moore and Moses Bonner share their first name either because Moses Bonner is named for Arthur's Brother or visa versa–either way, I am of the opinion that MOSES MOORE is a brother to ARTHUR MOORE.
I have another reason for placing MOSES MOORE as a brother to EDWARD, ARTHUR and WILLIAM MOORE. Moses Moore has a son Moses Moore, Jr. who has a daughter Tabitha Moore who eventually marries Lawrence Moore of Anson County.
It has long been a family tradition that Tabitha married her "first cousin." Now I didn't take stock in that opinion and decided to just let the research take it wherever it was going and we just have
to see what happened next. If WILLIAM MOORE and MOSES MOORE are brothers, which I think they are, then the family line does produce the opportunity for first cousin to marry.
Which brings me to the next item.
On your website I see that you have Laurence Moore as the son of Lawrence Moore, Sr. Our research produced a sworn statement of the grandson of Lawrence Moore, Jr. in which he says that he was named for his great grandfather JAMES MOORE and he signed and dated the statement as James Moore. I have no reason to doubt the authenticity of the statement. In that case then Laurence Moore as the son of James Moore would have been named for his brother Lawrence and for his mother's maiden name. On the 1790 Census he does not use nor does he sign any papers with the "Jr."at the end of his name. So, I think it is very probable that Lawrence Moore of Anson County is the son of James Moore and not Lawrence Moore. [my site now reflects that Lawrence of Anson County is the son of James Moore.]
Well, this is what I have been able to put together so far–I am now working on JOSEPH MOORE of Edgecombe County, NC and I wonder if you have any ideas on his placement in the family structure. There is a possibility that he too is one of the missing brothers, but for now, as
I have worked it out, I am fairly confident that John Moore of Nansemond County, Virgina had at least four sons (if not five, possibly Joseph) and they are as stated above: EDWARD, ARTHUR, WILLIAM and MOSES MOORE.