Sally's 7-great Grandparents:
William Moore bef 1630 – | his parents
of Nansemond County, Virginia
---
My working hypothesis – the way I see it as of this moment!!
---
William Moore patents on a branch of the Nansemond River on 6 Dec 1652.
The pat of Richard and John Snders and Henry Plumpton on 20 Oct 1689 ; one refers to the neighbor Thomas Mason and the other to the location by "William Moore's ancient patent of 300 acres."
Members of the Virginia Company listed in the 1st and 2nd Charters
1607 Sir Gorge Moor, knight
1609 Sir George Moor, Knt… John Moore, Esq…. John Moore, Esq…. Andrew Moore….William Moore.
There is a good possibility that any or all of these Moore men found in Isle of Wight and Nansemond Counties Virginia were grandsons of the men listed in the Charters and came to claim lands that were due to the original investors.
Grandchildren of William Moore
Children of John Moore:
1. John Moore
2. William Moore ca 1705 -1771
married Sarah Lawrence
3.
7 Nov 1700 John Moore patented 481 acres adj. William Hunter.
1704 Rents Llist–Nansemond county VA: Edw'd Moore 250; Tho 200; Jno 200; Rich'd 250; James 400; John 100
20 Oct 1704 John Moore patented 95 acres adj John King.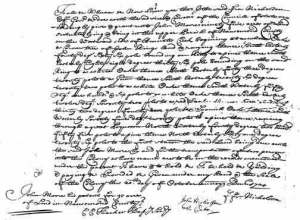 15 July 1717 John Moore patented 150 acres adj. Adam Raby.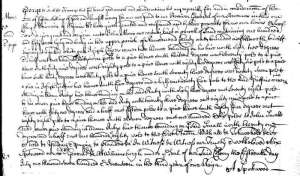 Southside Virginian Vol V #1 Jan 87 Nansemond county Records by L. H. Hart After the destruction of Nansemond County records by fire at the house of Christopher Jackson, Clerk of Court, in April 1734, a commission was appointed to include William Wright and 11 others. They were to examine old legal instruments brought in to be rerecorded and take any necessary depositions to prove the validity of these items. Two reports containing abstracts of the rerecorded items are among the Colonial Records at the Public Records Office.
Reel 86 (c.0. 412/24) 1729 or 30–Edward Moore bought of William Moore land whereon said Edward now lives.
Bertie Co NC B 76 William Moore late of Nansemond Co to Henry Barfield Nov 20, 1725 10 pds for 220 A William son & heir of Richard Moore late of Nansemond Co dec land at Ahosky Marsh adj Leonard Langston. . .
Arms of the earls and marquesses of Drogheda in Ireland