Descendants of Sally's great-great-great-great-great- grandparents
Arthur Cotten & Mary Elizabeth Rutland of Mulberry Grove
Cullen Cotten 1742 – 1811 | his parents
& Helen Moore ca 1742 – | her parents
of Hertford Co NC

---
This is my working hypothesis – the way I see it as of this moment!!
looking for male line Cotten/on desc. to take part http://cottondna.family.nf/
---
This Cullen's line is as follows: 
Cullen 1742-1811 +Helen Moore
Arthur Cotton 1712-1786 +Elizabeth Rutland
John Cotton 1662-1728 + Martha Godwin
John Cotton 1619-1693 + Anne (Harrison) of York Co, VA
John Cotton ca 1587 + Elizabeth Ridge of Wood Ditton, Suffolk
Cullen Cotten married Helen Moore daughter of Aaron Moore.
Aaron Moore's Line: [per Lewis Dunn]
Aaron Moore p1754-1811+ Ann
Samuel Moore p1726-1755 + Sarah
William Moore 16 -1732 + Elizabeth Baird
Richard Moore 16 -1726 + Elizabeth
Cullen Cotten is on the list of The Third Division of the Militia Draughted in the Regiment of Hertford County (1778-1780)
The Wills of Cullen Cotton and his wife Helen's father Aaron Moore were both set aside on Feb 7, 1812. Deed Book 31 p77.
Cullen Cotten of Hertford Co and Helen Moore had:
from the list of heirs Feb 7, 1812 -Deed Book 31 p77
as posted by Lewie Dunn. [Edgefield Co, SC]
1. Arthur Cotton ca 1759
2. daughter
married Simeon Perry ca 1762 –
3. daughter
married James Barfield
4. Jonathan Cotton
5. Bersheba Cotton
married Warrenton
6. daughter
married Elmsly Lott
7. Josiah Cotton
served 14 days as Rev. War soldier
married Charity Odom
daughter of Jacob Odom & Matha Watson of Ridge Spring, SC
[Josiah rem. to Morgan Co, GA with his wife and children
then on to Henry Co, GA]
a. Patience Cotton 1807 NC
married 1830 Thomas Garner 1806 NC
from 1850 Census Morgan Co, GA
i. Maston Garner ca 1832 GA
ii. Rufus Garner ca 1836
iii. Cloa C Garner ca 1838
iv. Julia A Garner ca 1841
v. John C Garner ca 1842
vi. Benjamin Garner ca 1849
b. Dorothea Cotton 1810 NC 
c. Delana Cotton 1810/15
d. William Cotton 1810/15
married Aggy Stewart
e. Catherine Cotton 1810/15
married Washington Allen
f. Patsey Cotton 1815/20
g. Josiah Cotton Jr. 1817 SC
married Frances ?
h. Rosa Cotton 1820 GA
i. Cullen Cotton 1820 SC
j. Isiah Cotton 1820/25
k. Abraham M Cotton 1825/30
married Nancy Crawley
l. Mahala Cotton 1830 Morgan Co, GA 
? m. Rotton Moore Cotton 1835 [1815] SC
married Martha
[ note wife and unmarried children +other family members buried Locust Grove Baptist Church, Locust Grove, Henry Co, GA]
e-mail from Michael Cotten 5/31/01 – I noticed that you don't have much on Cullen Cotten, Arthur and Elizabeth Cotten's eldest son.
A couple of months ago, I saw a posting on Genforum from one of Cullen's descendants, Lewie Dunn [ see] .  He says that Cullen married Helen Moore, daughter of Aaron Moore, and that the family settled in Edgefield, S.C. He also mentions a will. It appears that Cullen may have had sons named Josiah and Jonathan and probably a number of daughters.
My line is Josiah who left to Morgan Co, Ga. his wife and Children on to Henry Co,Ga
Patience 1807 NC + Thomas Garner
Josiah Jr. 1817 SC + Frances
Cullen 1820 SC + ?
William 1810-15 + Aggy Stewart
Isiah 1820-25
Rotton Moore 1835 SC + Martha
Abraham M 1825-30 +Nancy Crawley
Dorotha 1810 NC
Catherine 1810-15 + Washington Allen
Delana 1810-15
Patsey 1815-20
Rosa 1820 GA
Mahala 1830 Morgan Co,GA
Wife and Unmarried Children and other Family members buried Locust Grove Baptist Church,Locust Grove,Henry Co,GA
note: in the Feb Ct 1832 records of Hertford Co, NC appears this entry: a paper purporting to be the Copy of the Last Will and Testament of Aaron Moore, deceased is exh. and the Ct being satisfied as to its authenticity ordered it to be recorded [as the Ct House had burned] [this may have been son of the man that died in 1811]
notes from Carol Bryan re Ezekiel Perry whose brother was Simeon
Source South Carolina Dept of Archives and History Series S108092 Reel 0117 Frame 00272 Date 1776 or later Description: Perry, Simeon, account audited [File # 5875A] of claims growing out of the American Revolution
Names Indexed: Perry, Simeon
Series S108092 Reel 0117 Frame 002080 Date 11/22/1831 Description: Perry, Ezekiel, Petition concerning the care and debts of his deceased brother and requesting the payment of the arrears of his pension. [3frames] Names indexed: Perry, Ezekiel; Perry, Simeon Topics: Pensioners, care of: Pensions and annuities
Series S108092 Reel 117 Frame 00280 Record 1 of 4 records 15 Dec 1831 Committee on Pensions, Report on the petition of Ezekiel Perry
Series S165015 Year 1801 Item: 00119 Date 12/9/1801 Description: Perry, Simeon, Petition asking Permission to bring seven slaves into the state from North Carolina [2 pages] Names indexed: Perry, Simeon
Location: North Carolina Topics: Slaves, importation
Source: Edgefield Co Deed Book 17, page 384-385 Simeon Perry to John Wimberly a Bill of Sale 2 Feb 1799 for $400, two Negroes, Pat and Pol. Witnesses by Ezekiel Perry, Sen.f, James Perry. Signed Simeon Perry and proven 8 Oct 1799 by James Perry; John Spann, J.P. Recorded 10 Oct 1799.
Source Edgefield Co Deed Book 17 page 426-427 Ezekiel Perry to Moses Holstun, a Bill of Sale 21 Apr 1798 for 38 pounds 6 shillings 4 pence sterling, a Negro girl named Cans. Witnessed by Simeon Perry, Wm Holstun, John Wimberly. Signed Ezekiel Perry and proven 5 May 1798 by William Holstun before Wm. Calk, J.P. Recorded 11 Mar 1799
Source Edgefield Co Deed Book 19, pages 78-80 Simeon Perry to Henly Webb a deed 12 Feb 1800 for $350, 250 acres of Clouds Creek of Little Saluda River, being land formerly granted unto James Slaton 19 Aug 1768 by Gov. William Bull, being land formerly granted unto Michael Watson, ded'd and then Elijah Watson, and now Simeon Perry. Witnessed by Elijah Watson, Robert Worthington, Josiah [x] Cotton, Signed Simeon Perry. proven 22 Feb 1800 by Elijah Watson before Russell Wilson, J.P. Recorded 13 Oct 1800.
Source: Edgefield Co Deed Book 20, pages 92-3 Joseph Benthall of Hereford Co NC to Elijah Watson a Bill of Sale 4 Nov 1800 for $387 sold a Negro man Sam about the age of 26. Witnesses were Arthur Cotton, Simeon Perry. Simeon Perry prove on 25 Mar 1801 before John Spann, J.P.
Source: Edgefield Co Deed Book 20, pages 106-107 Ezekiel Perry to William Holstun a Deed of Sale 9 Jun 1800 for $600 a Negro fellow Tom. Witnessed by Simeon Perry, Arthur Cotton, Signed Ezekiel Perry and proven 10 Nov 1800 by Arthur Cotton before John Spann, J.P.
Source: Edgefield Co Deed Book 20 page 214-217 James Perry to Matt Jones a deed 4 Nov 1800 for $800, 273 acres whereon I now live, situate on Clouds Creek being land that was granted to Edward Couch 1770 by Gov. William Bull, then adjacent to Ezekiel Perry, Jesse Pitts, Foreman, Peterses Creek. Witnessed by Elijah Couch, Simeon Perry, Arthur Cotton. Signed by James Perry. Justice Joseph hightower certifies relinquishment of dower by Salley Perry wife of James Perry 6 Nov 1800. Salley [x] Perry made her mark. Proven 30 May 1801 by Simeon Perry before John Spann, J.P. Recorded 1 Jun 1801.
Source: Edgefield Co Deed Book 23 page 138 William Bell of Augusta, Georgia to Simeon Perry, 4 Sept 1802 for $1000, 406 acres lying below the old Ridge south side of Cloud Creek, it being part of 1570 acres known as Level or Starkes Old Store on headwaters of Clouds Creek of Edisto River belonging to Robert Stark the younger and Alexander Boling Stark, heirs of Capt. Michael Watson, William Lamar, Witnessed by Mathias Jones, James Barfield, Joseph Williams. Signed William Bell and proven by Mathias Jones 7 Sept 1803 before John Spann, J.P. Recorded 14 May 1803.
end of Carol's notes
---
Descendants of Sally's great-great-great-great-great- grandparents
Arthur Cotten & Mary Elizabeth Rutland of Mulberry Grove
Silvia Cotten ca 1752 – 1770 | her parents
& 1769 Dr. William Usher d. 1780 | his parents
of Tarboro NC
---
Silvia Cotten d. 5 July 1770 and Dr. William Usher d.1780
only had son – stillborn who was buried with his mother.
Dr. Usher was buried beside Silvia at Mulberry Grove.
(He mentions an (unnamed) child by second wife in his Bertie Co. will)
(Dr. Usher was a Surgeon and served in the 3rd & 4th Regiment, North Carolina Line during the Revolution.)
 Mrs. Griffin
. . .I desiered the Doctr to Bring you a sample of the Rute that I cure the splean with which if you give it as I dericted you it will make a perfect chure of any person
. . . I shall be oblige to you if you will send me a Receite to chure the Hooping Couf as my gran: Children has goot it very Bad
I shall Remeain your friend to serve
Elizabeth Cotten
I hope you will do the best for my child Sylvia you can.
Letter from Elizabeth Cotten to Mrs Elizabeth Griffin at Doctor Usher in Tarborough, NC, 1770
from Private Collection #21.2, Misc. Papers, at the NC State Archives. NCGSJ May 84 p. 79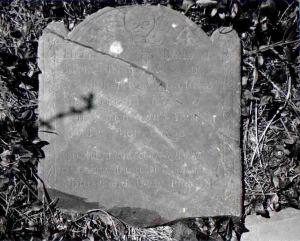 In Cemetery at Mulberry Grove
Here lies the body
of Silvia Ussher
wife of Dr. Wm Ussher
who died July 5th anno Domini 1770
in the 18th year of her age.
Much lamented by all
that was acquainted
with her moral Virtues and truly Pious life.
And with her her infant son
Requiesquat (Broken) in Peace.
---
Descendants of Sally's great-great-great-great-great- grandparents
Arthur Cotten & Mary Elizabeth Rutland of Mulberry Grove
Carolina Cotten 1762 – 1767 | her parents
died 4 yrs and 6 mos
---
Carolina Cotten August 1762 – 6 Feb 1767
The stone was very similar to that of her sister – ordered from New England at the same time. [These stones were removed from the cemetery by someone and I understand were installed in the patio of a home in Ahoskie. Also Dr. Ushers stone.]
Here lyes body
(Caroli)na Cotten
Daughter of Arthur Cotten
who died February 6th 1767
Aged 4 Years and 6 Months