William Lafayette Powell M.D. 1831 – 1862 | his parents
& Cornelia Ann Bishop 1835 – 1860 | her parents
of Bertie Co NC
---
This is my working hypothesis – the way I see it as of this moment!!
with notes and research by Virginia Powell Street
---
William Lafayette Powell and Cornelia Ann Bishop were married 27 May 1857 in Bertie County. Bertie Marriages abst by Fouts [obtained marriage lic. 22 May 1857]
William Lafayette Powell was born 10 Sept 1831 in Hertford County NC, the son of Albert J. Powell and Elizabeth Moore. He practiced medicine in Roxobel for some years and married 27 May 1857 Cornelia Ann Bishop, daughter of William [Wiley] Bishop and Mary L Horne. [birth date from records at U Pa Medical School. His under graduate studies were at U of VA. He received his M.D. degree in 1854. His graduation thesis was on "Typhus Fever." His "preceptor" was "Jesse C. Powell."]
Cornelia Ann Bishop Powell was born 8 Jan 1835 and died 26 May 1860 per her grave marker in the family cemetery. [reading by Lynn Macarthy 4 Nov 1999]
e-mail from Virginia 28 Dec 03: While going over some family papers earlier today, I found some information about Dr. William L. Powell. My father had typed on a small envelope the words,
"Discharge from 8th Regiment N.C. Militia of Dr. William L. Powell (My Grandfather)"
Inside is a scrap of lined paper with the words, "8th Regiment NC Militia We find Doct Wm L Powell laboring under pulmonary disease which renders him entirely unfit for military duty of any kind, we therefore recommend his final discharge from service Given at Windsor NC 10th May 1862
(signed) ? B Smith, Surg. (signed) Thos J Smallwood, ? "
Dr. Powell died before 27 Jan 1863 when an estate sale for William L Powell dec'd was held in Bertie County by his administrator William Bishop.
Children of William Lafayette Powell and Cornelia Ann Bishop:
1. Leila Moore Powell 7 June 1858 – 30 July 1936
The earliest entry in the Register of St. Marks Episcopal Church in Roxobel, NC is August 14, 1881 ~ the baptism of Miss Leila Moore Powell.
married St Marks Episcopal Ch, Roxobel NC 1 Mar 1883 Thomas Spruill Norfleet
12 July 1849 Woodville, Bertie Co NC – 7 Apr 1942 Roxobel NC
son of Stephen Andrews Norfleet and Frances Helen Slade Pugh
TSN died at "Woodbourne"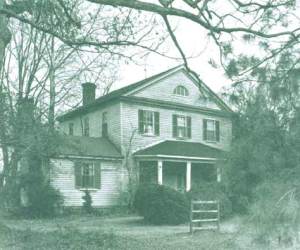 "Woodbourne"
built 1809 by Thomas F Norfleet 1787 – 1838
a. Thomas Figuers Norfleet 23 April 1884 – 17 Aug 1957
[poultry man 1930 census] He was known as "Figuers."
married ca 1917 Janie Cherry of Windsor NC 1886 – 1947
i. Thomas F Norfleet Jr ca 1918 – 29 Dec 2001 age 83
He was known as "Tom."
of "Woodbourne," Roxobel, NC, died Saturday, December 29, 2001. He is survived by his sister, Elizabeth Gray Norfleet Stallings of Greensboro, NC; his devoted and loving companion, Carol Clayton McClancy of Tarboro, NC; his first cousin, the Hon. Solomon Gilmer Cherry of Boone, NC;… Bertie Ledger
ii. Elizabeth Gray Norfleet ca 1919 –
married Ray Hightower Stallings moved to Greensboro, NC
b. Annie Julia [Aunt Sadie] Norfleet 9 Oct 1885 – June 1981
She was best friends with my great-aunt Rebe Shields of Scotland Neck, and used to make jellies and send them to me. A very dear and sweet lady ~ David Gammon
married aft 1930 Carl Livermon ca 1884 – Mar 1968
of Roxobel no issue
c. William Smith Norfleet 25 Jan 1887 – 27 July 1964 Roxobel
married ca 1920 Sallie Cora Griffen Eason ca 1893 –
i. "Sallie Lou" Cora Griffen Norfleet 19 Mar 1922 –
married 19 Apr 1947 Coy Lindsey Brown 28 June 1918 Bertie Co –
ii. Margaret "Peggy" Andrews Norfleet 3 Jan 1924 –
married Frank Poston
iii. William "Billy" Smith Norfleet Jr.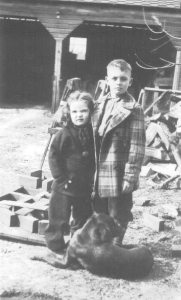 Virginia Powell and Billy Norfleet
d. Dr. Edgar Powell "Cup" Norfleet 31 July 1889 – 22 Sept 1977 dsp
"He was my Uncle Cup. When I was little, he kept his dogs at Woodbourne. He used to show us one of his favorites, a small brown hound named "Louse." Louse cried tears when he spoke to it in a certain tone of voice."
e. Eric Norfleet 31 Aug 1897 – 27 Oct 1985 Hospital in Virginia Beach
lived Jackson NC Uncle Eric was a lawyer and a Judge. He and my father were very close. "They were born in the same year, 1897. Eric (his name was pronounced Ear-ic) came to Washington, DC, to visit Daddy and tell him goodbye in the final days before his death from pancreatic cancer in 1973."
married Margaret Kelsic Gary of Richmond VA 13 Sept 1896 – 5 June 1988

Margaret and Eric Norfleet
with Jack and Janet "Bobby" Travell Powell
in Jackson, NC, 1945.
I. Margaret Norfleet lives in Clemmons, NC
ii. Eric Hill Norfleet still lives Virginia Beach, VA
e-mail from Eric A Norfleet of Croton on Hudson, NY 9-03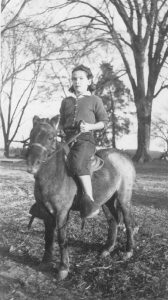 1945 Virginia Powell on Hill Norfleet's pony
"This was a very difficult animal.
It would try to run away with you when you got on it,
as you can see from my expression and body language.
I got off it as soon as I could."~ Virginia
Edgar Powell 9 Mar 1860 – 19 Nov 1908
at St. Vincent's Hospital in Norfolk, Virginia


married Isa Cornelia Snowden Gordon 24 Dec 1862 – 15 Jan 1912


daughter of George Bradford Gordon and Elizabeth Ann Jones
"After the untimely death of Dr William L Powell's son Edgar Powell in 1908 at 48 years of age and the death of his wife in 1912, his children relocated and lived with their aunt Leila Moore and were raised at "Woodbourne," the Norfleet River Plantation home. The third floor of "Woodbourne" house was designed like a school dormitory where Junius and John [Gordon had died in 1911 a year before their mother — he was struck by the train at Kelford] and the four Norfleet boys roomed there together." ~ Virginia
(A letter written in 1974 by my Aunt Dot, Dorothy Powell Moore of Charlotte, states: "The Devereux family owned the plantation next to the Bishop and Powell one on the Roanoke River. When they sold after the Civil War, our family bought part of it. As long as we owned it, it was called Devereux Place. Your father, Junius and I sold all the land in the Thirties. During the Depression it was impossible to operate and, at the time, was the only thing we could do. ~ Wish we had it back!" ~ Virginia. The Poor Town News No. 85)
"Below you can see our great-aunt Mam, "Fannie" Bishop, living with Aunt Dot, after Junius and Jack had moved on. She lived with Aunt Dot and Uncle Joe in Charlotte for about 17 years after they were married, – until she died.
1920 Federal Census Bertie County, NC, Roxobel Township District 6
Enumerator – Allie V. Hall, February 2, 1920
Family Name/Name/Relationship/Sex/Race/Age/Marital Status
JACOBS, Francis B. head/F/W/75/Wd
POWELL, Dorothy E. niece/F/W/18/S
WILLIAMS, Aggie cook/F/B/14/S
NORFLEET, Thomas S. head/M/W/70/M
NORFLEET, Leila M. wife/F/W/61/M
NORFLEET, Annie J. dau/F/W/34/S
NORFLEET, William S. son/M/W/32/S
NORFLEET, Edgar P. son/M/W/30/S
NORFLEET, Eric son/M/W/22/S
NORFLEET, Julian nephew/M/W/39/S
LIVERMON, Asa T. head/M/W/72/M
LIVERMON, Alberta S.C. wife/F/W/63/M
LIVERMON, Carl R. son/M/W/36/S (I'm sure that he married Annie Norfleet – above. When my sister and I rode the mules at Woodbourne, the Livermon farm, I believe, was next door. Later, we stayed at "Unkie" Livermon's cottage at Nags Head).
RABY, Mary F. mother-in-law/F/W/81/Wd
---
Edgar Powell 1860 – 1908 | his parents
& Isa Cornelia Snowden Gordon 1862 – 1912 | her parents
of "Oakland" Bertie Co, NC
---
Edgar Powell who was born 9 March 1860, married 1894 Isa Cornelia Gordon who was born 24 Dec 1862 in Hertford, Perquimans County, NC.
Edgar Powell, a robust gentleman farmer died at St Vincent's Hospital in Norfolk, Va., at the age of 48 (in 1908) after elective surgery for a sinus infection.
In 1967, Virginia Tucker wrote to Dorothy Powell Moore that "Mama [Isa Gordon Tucker] says that your mother [Isa Gordon Powell] was born here in Hertford in the home that is now our Rectory."
I found among my Father's papers after his death a newspaper clipping about the Church of the Holy Trinity in Hertford and the Rev. William Snowden who was the minister there. Jack Powell's mother, Isa Gordon Powell, was extremely devout. My mother wrote in her autobiography that Isa Powell "traveled to the eastern part of the state to participate in Diocesan Convocations" and she hoped that my Father "would join the ministry" when he grew up. She worked with what she called the Episcopal "Mission" in Roxobel after she married Edgar Powell. ~ Virginia P Street
My Father told me that Isa Gordon and Edgar Powell were quite musical. During evenings at home at Oakland, she played the piano while he played the violin. Neighbors and family members came to the house and joined in. My Father remembered a cousin, Eddie Bishop, (probably the son of George Bishop), who brought his cymbals, drum, and harmonica and played them all at the same time like a one-man-band. ~e-mail VPS
— Excerpts from an article by John W.G. "Jack" Powell in the 1972 Bertie Ledger-Advance
A train trip in the winter of 1911 was to be the cause of the death of our mother. Junius and I were attending Christ School in Arden, N.C., near Asheville that fall. The trip to the school involved a train ride that lasted from one morning to the next afternoon, including changing trains twice and spending a night in a hotel in Greensboro. There were no sleeping cars on that route. It was on that trip in reverse, riding in a day coach heated only by a coal stove, that our mother became fatally ill. She was bringing us home from school for the Christmas holidays.
Isa Gordon Powell died in January 1912, at home, from pneumonia. Edgar Powell, a robust gentleman farmer who played the violin, had died three years previously in Norfolk, Va., at the age of 48 after elective surgery for a sinus infection. Their children were taken in and brought up by Edgar Powell's sister, Leila Powell Norfleet, and her husband Tom, at the Norfleets' nearby home, Woodbourne. ~ Virginia The Poor Town News No. 85.
After Isa Gordon Powell's death in January 1912 – without a will, the properties of Junius, Jack, and Dorothy Powell were managed by W. L. Lyon, Clerk of the Superior Court of Bertie County at Windsor for several years until the young heirs reached the ages of maturity. [e-mail from VSP]
The Powell children, Junius, Jack, and Dorothy, "were closeknit and reared in strong Scotch-English traditions. Their great-aunt Mam, [Mary Frances "Fannie" Bishop, who spent most of her life living with the three children as she had no children of her own], was born on January 12, 1844, when John Tyler was our tenth President of the United States, and she lived nearly a hundred years. She was a young woman during the Civil War. She told Jack, and later told me, how she buried the family silver in the woods when the Yankee soldiers approached the area. Her father, William Bishop, told her about the Red Coats in the War of 1812 when the British came up Chesapeake Bay and burned the White House and the Capital. Born on January 13, 1795, in Roxobel, William Bishop was a small boy during the Presidency of George Washington (1789 to 1797), and Mam quoted his first-hand account of the Republic's formative political years as if they had occurred yesterday." (Office Hours: Day and Night by Janet Travell, M.D., NAL, 1968, page157).
The bank was apparently in Norfolk and they used it a lot. One document has printed words on a check-sized piece of paper which says: "KADER BIGGS & CO., Exchange National Bank, Norfolk, Va." It is dated June 17th, 1881″ and is signed by Wm J. Bishop "for Mrs. M.L. Bishop." It promises to pay $73.00 with interest. It notes that both the maker and endorser "waive the benefit of our Homestead Exemption as to this debt." (whatever that means). ~ VPS I take it Edgar, now of age, takes a trip to the city to close his trust account with his guardian and while there goes shopping for the family and himself: SMK

"In my Father's box of old Bishop and Powell papers is a small notebook which belonged to Edgar Powell. He was apparently taking a trip by train and made notes on various topics such as what to purchase for family members. One page is dated 1880. He wrote: Mother (Mother must be his grandmother who raised him) 1 vial of ?, 1 pair of shoes No 7, 1 pair of shoes for Mabel size 10 (she was a child), send some sample of peacock blue, fix her ring, George Bishop 1/2 dozen shirts – size of collar 16 – one collar button small size, Miss Leila Powell one brown hand sachel, one pair of slippers with straps, one pair nice stockings, hat – not a bonnet, one white fan with white feathers on edge, some music, one bow cravat for Dr. Jacobs
A note about his purchases says: Fan 2.00, Mabel's shoes 1.25, 2 Black books 2.00, hotel bill 4.50, paper on train .75, fish .25, banana .05, and rose .60 I wonder who the rose was for. . VSP.
1 stonewall plow. One dozen straw hats. Bring home $200 in money. Buy meat for ? – for John. Ask Davis to explain account of 1877 20000 Kader Biggs note 2000
After the date May 12th 1880, he wrote: – 1 suit of clothes, 1 mackinaw hat with side band brown brim No 7, 4 shirts 16 collars open behind, 1 pr low shoes plain, 1 white vest No 36 Clothes at Hofheimers ? 58.00
Another page says Wm J Bishop at the top. Then: get receipt from Mr Biggs, get receipt from Peter Smith, 3 Black books to settle Powell Estate. Later: Balance to the credit of Est of William L. Powell May 15th 1880 in Kader Biggs hands. Certified check of Deposit from Exchange National Bank $1774.66 Amount promised 28.19 $1772.85 — notes from VPS
I expect these notes have to do with the farm and "tenants" doing the farming.
An unexplained note says: Felix 8.50, WJB 20.50, Bryant 10.50, Abner 12.50 $52.99
Other notes say: Rent of the Ma?low land $75 per acre Felix share in Blount cotten (can't read the number).
Another note says: Felix 905 lbs, Abner 1360 lbs, Bryant 1190 lbs, WJB 1972 lbs 5427
notes from VPS
two receipts signed by a Felix Bishop, one dated Dec. 1881 and one Dec. 1882. In them he acknowledges payment for a crop he raised during the year from William J. Bishop.
( from the 1900 Roxobel census. Bishop, Felix G., head, BM, 3/1855, M8, Farmer.)
Also, it was interesting to note documents that showed
Children of Edgar Powell and Isa Cornelia Gordon:
1. Edgar Gordon Powell Nov 1894 – Oct 1911 Kelford NC
Gordon, had been killed by a train at the Kelford railroad crossing one night in October 1911. It was never clear if he was crawling under or making his way between the cars when the train started.
2. Junius Bishop [Frenchy] Powell Apr 1896 – 15 Dec 1958 Raleigh NC
married Julia Manning
a. Julia [Doolie] Powell
b. Dorothy [Dot] Powell
3. John William Gordon [Jack] Powell 26 Dec 1897 – 10 July 1973 Washington DC
My father was christened John William Powell but, upon the death of his first cousin, John W. "Jack" Gordon, Jr., in Richmond, Virginia, when he was seven years old, he took the name Gordon and became John William Gordon Powell after that.~ Virginia
married 1929 Janet G Travell, M.D. 1901 – 1997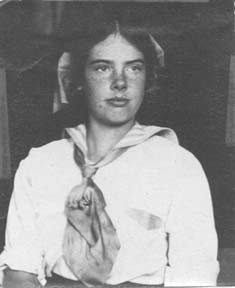 Janet in 1913 NY
On line exhibit of the life and legacy of Janet G Travell MD
a. Janet Davidson Powell
b. Virginia Gordon Powell
4. Dorothy Elizabeth Powell 5 June 1901 – 5 July 1986 Charlotte NC no issue
married Joseph Erwin Moore of Charlotte NC
Daddy's Birth Certificate:
This is to certify that I, Mrs. Carl R. Livermon, Secty. & Treas. of St. Mark's Episcopal Church of Roxobel, N.C., do know John William Gordon Powell, formerly of Roxobel, N.C., now of New York, N.Y. That I distinctly remember the day that he was born And that the following facts and dates are copied from the church registry. Date of birth Dec, 26, 1897. Baptised May 8, 1898.
Signed Mrs. Carl. R. Livermon. Oct. 15, 1945.
1900 Roxobel, Bertie Co, NC census. [Dorothy Powell wasn't born yet.]
Powell, Edgar, head, WM, 3/1860, M6, Farmer
Powell, Isa G., wife, WF, 12/1862, M6, 3/3
Powell, Edgar G., son, WM, 11/1894, S
Powell, Junius B., son, WM, 4/1896, S
Powell, John W., son, WM, 12/1897, S
http://ftp.rootsweb.com/pub/usgenweb/nc/bertie/census/1900/roxobel.txt

1946 Junius Powell, Dorothy Moore, Jack Powell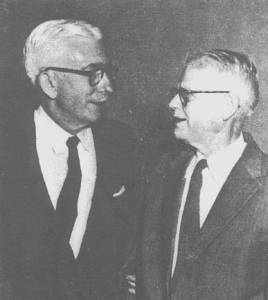 1962 "John Powell, financial counselor and husband of the President's physician
and Perry T. Roane, Kelford postmaster"
from THE CHRONICLE of The Bertie County Historical Association,
Vol. X, No. 1, April 1962
Ref: "Poor Town News" #84 Jack Powell's Roxobel part 1 #85 Jack Powell's Roxobel part two

1937 Jack, Virginia, and Janet Powell
picnicking and our Springer Spaniel, Buppy (in New York State)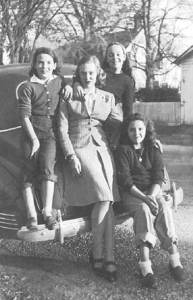 1945 At "Woodbourne" cousins Virginia Powell, Elizabeth Norfleet and Janet Powell, and sitting below on the fender of the car, Dot Powell, Uncle Junius' younger daughter.
Elizabeth Norfleet's parents were Thomas Figuers Norfleet, my "Uncle Figuers," and Janie Cherry Norfleet, my "Aunt Janie." When we used to visit Roxobel during my childhood, Elizabeth lived at the Woodbourne Plantation with her parents and her brother, Tom. Later, she married Ray Hightower Stallings and moved to Greensboro. We loved Elizabeth. She came to New York and stayed with us occasionally when our parents had to go on trips together. Once she lived with us for about six months when she came to New York for medical reasons concerning her eyes. Our other cousin who came sometimes was Eric Norfleet's daughter, Margaret. Janet and I called them "Aunt Lizzie" and "Aunt Maggie." ~ Virginia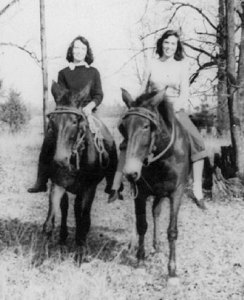 Left: ca 1950 Thanksgiving at "Woodbourne," the Norfleet home, NC.
Virginia on "Eric, the Red"and her sister, Janet, astride "Slow Motion"
Right: "Sol Cherry with Virginia and Janet Powell and Leon, a friend – 1948"
"I believe that Sol had begun to live at "Woodbourne."
"On that visit, I remember there was only one mule. Either "Garfield" or "Sycamore" (the two we had been riding) had died. In1950, the other one had passed on. There were two new mules – as seen in the final picture. Janet and I graduated from high school in 1951 and 1952, went to college, got married, and had children of our own. We stopped visiting Roxobel but saw the family in the summers at Nags Head. When Unkie's spacious gray-shingled cottage was full, we enjoyed the cabins at the motel next door." ~Virginia